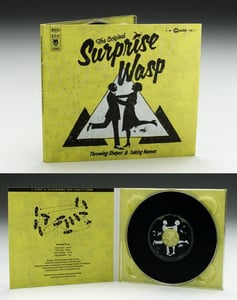 $

10.00
Surprise Wasp - Throwing Shapes & Taking Names EP
Track List:
1. Bucktown or Bust
2. Moonwalking for Jesus
3. Fuckin' A... A.S.O.A (Astronomical Society of Australia)
4. Look Mum, He's Stomping the Yard
5. Cleanup in Aisle Pants
Here's a review that makes us sound awesome:
"When I was given Surprise Wasp's debut EP Throwing Shapes and Taking Names, I was instantly and completely stoked. This is a considerably new band to the Sydney punk scene, but over the last three to six months has played some heavy hitting shows. But I am still yet to see the band after many attempts to make it to their shows followed by the commitments of life getting in the way time and time again. Anyway, Surprise Wasp!
The EP comes in a very sexy digipak single disk quality packaging complete with its own instructions of how to dance to each of the five songs on the EP. Throwing Shapes and Taking Names kicks off with a sample of typical 30s swing music before blasting straight into their signature punk rock style of thick guitar riffs and quality vocals. Within the first thirty seconds you can hear the music teeming with influences from bands like The Bronx, taking a similar perspective of the future of punk music.
You may think that because it is a local band with no label behind them that they would have skimped on production; but far from it, by bringing Dave Hammer in on recording duties they were able to achieve the exact sound needed to rip through the five tracks like a well-oiled machine. I'm not sure what else to say about this CD, other than it freaking rocks; it has catchy choruses mixed with fast punk drumming and palm muted bar chords from the depths of hell. I reckon in a good eight to twelve listens I will know these songs well enough to stand right up the front of one of their shows and sing along, would probably know the songs better than themselves, I am very keen for that."
- Matthew Vaughn - thedwarf.com.au